A Library handles fundamental groundbreaking research, which then feeds into new technologies, buildings and of course new units. Generally, most players will start off the game with a library already set up, so all that is required is to obtain resources required to buy the research the library has to offer.
Your Library can perform research in five areas: Ages, Science, Military, Economy, and Civics. Each one of them is a prerequisite for further research, which in turn might contribute towards bettering your units and even the stylistic appearance of your faction's buildings!
Age research
Edit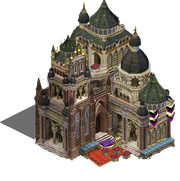 "And we must take the current when it serves,
Or lose our ventures."
— William Shakespeare, Julius Caesar
Age research is necessary in order to ensure that your faction and your units advance. Each age requires a specific number of non-Age research levels achieved at your Library, before you can unlock it. For instance, you may not advance to the Castle Age until 10 non-Age Library research levels have been achieved. This can be achieved by researching two levels each of Science and Economics research, and then possibly three levels each of Military and Civics research.
Rise of Kings hosts three types of ages: the Dark Age; the Castle Age; and the Imperial Era. For more information, click the links here to read more.
Alternate names:
Dark Age
Castellation
Urbanisation
Scientific research
Edit
"We know not a truth without knowing its cause." — Aristotle
Science research
increases line of sight for many of your units (including buildings), makes new Resource technologies available so you can increase gather rate, permits construction of new types of buildings, and decreases the cost of all other technology research incrementally.
RESEARCH LEVEL
NAME
GRANTS ACCESS TO

Classicism

"'A prudent man should always follow in the path trodden by great men and imitate those who are most excellent."
—Niccolò Machiavelli

Natural Law

"The vicar of the Almighty." —Geoffrey Chaucer

Research cost cheaper and research speed improved by 10%
Increased LOS
  from University

Mathematics

"He who is ignorant of mathematics cannot know the other sciences nor the affairs of this world." —Roger Bacon

Research cost cheaper and research speed improved by 10%
Increased LOS
Unlocks:
Allows access to Foundry.

Chemistry

"All substances are poisons; there is none which is not a poison."
—Paracelsus, 16th century Swiss surgeon and scientific philosopher

Biology

"No form of Nature is inferior to Art; for the arts merely imitate natural forms." —Marcus Aurelius

Research cost cheaper and research speed improved by 10%
Increased LOS
Medium-level metallurgy research at foundry
Medium-level knowledge upgrades for university.

Optics

"Who looks out with my eyes? What is the soul?
I cannot stop asking." —Rumi

Empiricism

"He who perceives, has knowledge thereby ."
—Anselm of Cantebury, 12th century bishop

Research cost cheaper and research speed improved by 10%
Increased LOS.
Commerce research
Edit
"He understands where, when, and how much to take in and pay out." — Leonardo Bruni
Commerce research
will cost you Timber and Knowledge at the Library. When you complete Commerce research, your Commerce Cap goes up for all Resources you gather: Food, Timber, Metal, and Wealth. You can gather more of them only up to the Commerce Cap; surpass the cap and any excess is simply lost to you. Commerce research along with Civics research is also required to gain access to a variety of military units as well.
RESEARCH LEVEL
NAME
GRANTS ACCESS TO

Caravan Train

"A journey of many miles begins with a single step."
—Taoist saying

increased caravan limit
increased commerce cap for all resources.

Cartography

"[He] has made the earth your couch, and the heavens your canopy."
—The Qur'an (2:22)

Linguistics

"Stick to your own grammar, my lord, for it is much better." -Richard I Lionheart

Compass

"In losing me, you might yourselves be lost."
— Dante Alighieri, Paradiso (Bk II)

increased caravan limit
increased commerce cap for all resources.

Guilds

"Everyone has been made for some particular work, and the desire for that work has been put in every heart." —Rumi

Banking and Finance

"We are in need of money, and without money, nothing of what should be done, can be done."
—Anna Comnena, The Alexiad, Cap I

increased caravan limit
increased commerce cap for all resources

Mercantilism

"Better to be cheated by the price than by the merchandise."
—Baltasar Gracián, 17th century Spanish priest and author

increased caravan limit
increased commerce cap for all resources.
Civics research
Edit
"Believers, be steadfast and guard your borders."— The Qur'an
Civics research

allows you to build one new city with each completed round, and increases your national borders. If your borders abut other nations' borders, then you'll gain strength in the pushing match. If you don't touch territories yet, the diameter of space around your Cities simply expands. Civics research is also vital for...
RESEARCH LEVEL
NAME
GRANTS ACCESS TO

Manorial System

"He made safe his castle that was upon a high hill, and he gathered in his flocks."
—Ferdowsi, Shahnameh

Increased  city limit.
increased borders
low-level attrition research at tower.

Bureaucracy

"Kings are wont to create as many eyes, ears, arms and legs for themselves as they see fit." —Aristotle, Politics

Law Enforcement

"A just city should favour justice and the just, hate tyranny and injustice, and give them both their just deserts." —al-Farabi

Jurisdiction

"They who do not mix their belief with injustice will have security, for they are rightly guided."
—The Qur'an (6:82)

Increased  city limit.
increased borders
medium-level attrition research at Tower.

Sovereignty

"Be of one mind and one faith, that you may conquer your enemies and lead long and happy lives."
—Genghis Khan

Political Theories

"I am a lover of liberty. I will not and I cannot serve a party." —Erasmus 

Divine Right

"I am the King of Rome, and therefore am above grammar."
—Sigismund of Luxemburg, Holy Roman Emperor (r 1433-1437)
Military research
Edit
"Any man clad in armour and bascinet is as noble as any prince or king."
Completing Military research
increases your population cap and also allows you to start upgrading your units at your military structures. Additionally, the cost of units and unit upgrades is lowered with each successive level researched.
RESEARCH LEVEL
NAME
GRANTS ACCESS TO

Feudal Levy

"To win a boar's head one must sacrifice the hounds."
—Wolfram von Eschenbach

Mercenaries

"...they spent well-nigh all that they had, both in the sojourn that they had made there and in the great payments that they had made for the fleet." — Robert de Clery, On the Conquest of Constantinople, Ch 16

Heraldry and Code of Honour

"See that you come
Not to woo honour, but to wed it."
—William Shakespeare, All's Well that Ends Well (Act 2 scene i)

Unlocks:

Standing Army

"Go now through all the tribes of Israel, from Dan even to Beersheba, and number ye the people, that I may know the number of the people."
—2 Samuel (24:2)

barracks, siege workshop and stable units of next age in a CtW
[2] units for Stable and Barracks (except heavy cavalry)
unique unit upgrades for peasant levy and skirmisher levy in [2], with Communalism at Tower
[3] units for Dockyard

Conduct of War

"For not by numbers of men, nor by measure of body, but by valor of soul is war to be decided." —Belisarius

[2] heavy cavalry from stable.
Medium-level Nobles' court units in [3], with Organised Religion
[2] mainstream siege, dockyard, barracks and stable units
medium-level strategy and fortification research at forts and castles.

Linear Tactics

"Fighting men are the city's fortress."
—Alcaeus of Mytilene, classical Greek poet

Military Science

"Wars begin when you will, but they do not end when you please." —Niccolò Machiavelli

[3] advanced naval units, with—
High-level strategy and fortification research at forts and castles.
High-level chivalric order units and Ninja, with Ascetism at House of Worship
Ad blocker interference detected!
Wikia is a free-to-use site that makes money from advertising. We have a modified experience for viewers using ad blockers

Wikia is not accessible if you've made further modifications. Remove the custom ad blocker rule(s) and the page will load as expected.