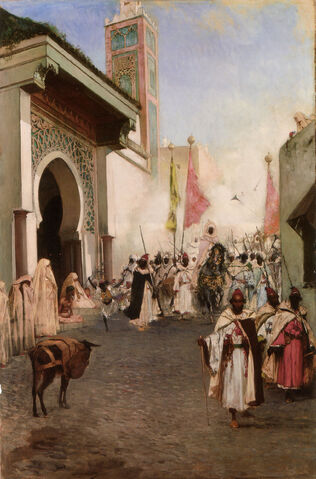 Moorish splash screen
Edit
"Praise be to Allah, for He has preserved you and your people so far. Yet, time is not on your side - for the Abbasids are still plotting against you, and the heathens to the north are arming for war. There is but one way to preserve your people and your heritage - and that is to rise up and CONQUER THE WORLD."
Saracens splash screen
Edit
"The sands of your homeland have birthed countless kingdoms, yet as much as it can give life to man, it too has swallowed up bones of many fallen kings. Such is Allah's will, for He is the Almighty. Will your people perish and be lost too, or will you prevail and eventually CONQUER THE WORLD?"
Turks splash screen
Edit
"For almost more than a generation, your family has ruled the lands around Nishapur as loyal subjects of the Caliph of Baghdad. However, to remain the tool of another is no life for red-blooded Turks - be it as it may, a greater destiny perhaps is your to pursue: that is, to CONQUER THE WORLD."
Appears on these pages

of
Turkic splash splash Muslim loadout Christian loadup Asian splash Asian victory splash Muslim...
File history
Click on a date/time to view the file as it appeared at that time.
Ad blocker interference detected!
Wikia is a free-to-use site that makes money from advertising. We have a modified experience for viewers using ad blockers

Wikia is not accessible if you've made further modifications. Remove the custom ad blocker rule(s) and the page will load as expected.