The Atlas is the compendium of territories available in Rise of Kings.
Regions by Geography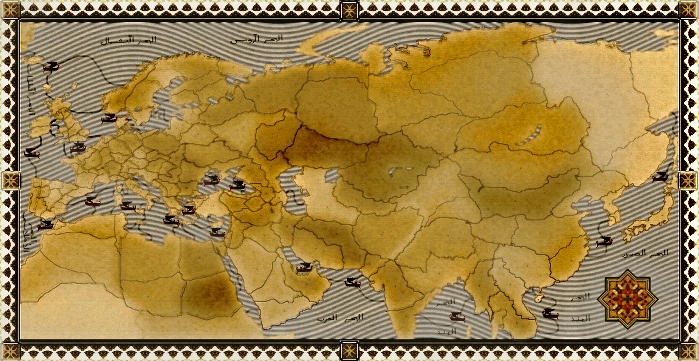 Hint: Mouse over the map to access the atlas entry for each relevant region.
The world of the 10th century is not the same world as we inhabit today, for in that time, different ethnicities and different ways of thinking completely redivided the world. This world was divided up into different regions, representing the different creeds and cultural spheres which moulded, shaped and collided against each other with tectonic force in events such as the Crusades.
Colonies
A limited number of colonies are initially available, but more can be unlocked later by China, Scotland, England, France, Denmark, Portugal and Spain. Some are intimately linked to the territories on the main map while others need to be explored for.
Strategic resources (and where to find them)
| | | | |
| --- | --- | --- | --- |
| Wool | Occurs in: | Various cultures made their living off the practice of animal herding ever since the prehistoric period. Sheep and goats were a vital resource as apart from providing meat, they also allowed access to milk as well as their hair, which could be spun into wool. Wool was the staple of many a European economy, with towns in Northern Europe and Italy dedicated to the acquisition and processing of wool. | |
| Wine | Occurs in: | Viticulture experienced an even greater perfusion throughout Europe in the Middle Ages with vineyards appearing throughout Iberia, France and Germany as well as Italy. Not all people enjoyed wine however: for those who could not access grapevines, wine remained a luxury of the nobility even as it was required in Catholic religious services. Japanese and Chinese preferred rice liquor, the Mongols were known for koumiss which was made from fermented mare's milk...whereas in the Islamic Middle East, the consumption of any liquor was considered haram and thus frowned upon. | |
| Whales | Occurs in: | For those who faced the vast oceans — the Indian, Atlantic and Pacific Oceans — there was the opportunity to hunt whales. Whales not merely provided food and oil, but also provided ambergris, a much-sought perfume as well as whale baleen. The most famous of whalers were the Japanese as well as the Basques who lived in northern Spain. Basque fishing and navigation savvy soon led them to blaze new trails westwards with the discovery of the New World. | |
| Tea | Occurs in: | Tea was certainly known as a beverage as early as the Zhou dynasty in China and by the time of the Tang era, tea was the national drink of China, spreading from court circles to be popular throughout Chinese society. The appeal of tea soon spread across the world, and found its first European fans in Russia and Portugal. | |
| Spices | Occurs in: | With salt and spices, food could be preserved and kept for longer periods, or at least have the taste of spoilage concealed with strong flavours, with the most desired spices in Europe being pepper, cinnamon, saffron and ginger. The Venetians of northeastern Italy enjoyed a near-to-unrivalled domination of the spice market through their ties with the (formerly Roman) Byzantines and (later) the Mongols, who controlled the Islamic lands north and east of the Byzantines. Spices, however, were also the catalyst for global Western imperialism as following the fall of Byzantium in the late 15th century, the old trade routes to India and the Malay Archipelago (the primary sources for spices) were cut and European powers began to seek ways to circumvent them. | |
| Silk | Occurs in: | Legend has it that silk was discovered by Leizu, queen to the Yellow Emperor of China when a moth pupa accidentally dropped into a cup of hot tea that she was having. From that time on, the Chinese created silk from the pupae of the moth bombyx mori, whose fibres can be unwound to form threads for weaving. Comfortable and resilient, silk bought China much wealth and was the one reason for the existence of the Silk Road until the Late Middle Ages when the Romans managed to smuggle silkworm moths into Greece. | |
| Salmon | Occurs in: | A voracious predator which lives mostly in the more frigid waters of the world, salmon was considered a delicacy by the Celts, with salmon populations in Scotland and Norway being the most notable. The Irish tale of the Salmon of Wisdom, a fish which upon being eaten could confer all knowledge in the world on whoever consumed it, attests to its importance well into our own times. Not everyone likes salmon though as the fatty taste can put many off. Salmon was not so popular in mediaeval Japan as sashimi because it harboured parasites, although the Ainu tribes managed to avoid this issue by freezing the fish with snow before eating it raw. | |
| Peacocks | Occurs in: | These birds are native to Africa and Southern Asia, and the Hindhus have built up a cultural significance surrounding peafowl, because of their beautiful and unique plumage. In Europe, however, they are considered as a gastronomic and aesthetic treat for the nobility or any man of arms dressing to impress. | |
| Papyrus | Occurs in: | With the conquest of Egypt, the Arabs had access to Egyptian papyrus — a writing medium made from fibres of the papyrus plant. The Arabs understood the value of papyrus as it was cheaper albeit not as lasting as parchment. Nevertheless, papyrus and parchment were used hand in tandem until the art of papermaking had been learnt from the Chinese in the 10th century. | |
| Obsidian | Occurs in: | This precious material, formed from vitrified igneous rock, can hold an extremely sharp blade despite being fragile. For this reason, surgical instruments may be made out of this material. | |
| Olive Oil | Occurs in: | A legacy of the Classical Era, the cultivation of olives continued unimpeded throughout the Mediaeval Era in the Mediterranean. Olive oil, an edible fat was used in a variety of ways — it was used with vinegar in salads in Italy, it was also used as grease for machines and joints, and it was also made into holy oil to anoint monarchs and moribund persons. | |
| Incense | Occurs in: | Incense fragrances can be so intense that they mask other less desirable odours. Although used by a large number of cultures, the largest market for incense was Europe where church services used it a ritual purifiying agent (as well as to cover up the smell of unwashed bodies of visiting pilgrims). | |
| Granite | Occurs in: | Granite is a coarse-grained, light-colored igneous rock and has been used for thousands of years in both interior and exterior applications, although not as preferable as marble. the Normans were known for their use of granite in their buildings given that it was abundant where they were based in France. | |
| Gold | Occurs in: | Gold continued to be prized in the Middle Ages, but with traditional sources in Europe running out, it became increasingly rare and prized, with most gold coming from across the Sahara. Africa's gold mines were so prolific that when Mansa Musa, the king of Mali, passed through Egypt on pilgrimage to Makkah he gave out so much gold that he caused a financial crisis in Cairo. | |
| Furs | Occurs in: | Exploiting natural animal resources is one of the cheapest and most effective ways of making profit from virgin territory. Possibly helped by climate change and a demand for fancy stuff to trim the robes of royal personages and their court artists' brushes, demand for animal fur was so high that a runaway Russian serf could obtain a new house and land in the Far East for the price of two bear pelts. | |
| Ceramics | Occurs in: | Ceramics were extremely significant in mediaeval society as they allowed for storage and transport of food and drink. The best ones were created in China where the art of creating semi-translucent ceramics called "porcelain" or "chinaware" was first mastered, and due to their quality and uniqueness became prestige objects and were called "white gold" for centuries. | |
| Horses | Occurs in: | No commodity nor animal in the natural world has served man so well and so much as the horse — the Middle Ages was after all, the age of the knightly cavalryman. Although many nations understood the significance of having an ample supply of horses, the best horses were often thought to come from Spain and Asia. | |
| Iron Ore | Occurs in: | The Dark Ages were not exactly dark because while most learning and culture in the Roman empire retired south and east, the new barbarians who had came over to replace Roman rule were not entirely crude, and were proficient metalworkers. Throughout the Middle Ages, iron enjoyed perennially high demand for tools and weapons, with the best sources for the ore coming from the mines under the hills of Sweden and Lorraine. Swedish mines have proved to be sufficiently prolific that almost every weapon produced in Nazi Germany during the Second World War was wrought of iron from Sweden. | |
| Marble | Occurs in: | A beautiful metamorphic rock, marble has been the dream medium of choice for sculptors and stonemasons everywhere ever since man learnt to build tall walls. Monuments such as the Taj Mahal as well as the Milanese Duomo are all testaments to the enduring appeal and beauty of marble as a building material. | |
| Glass | Occurs in: | Glass has been used for various kinds of bottles and utensils, mirrors, windows and more. It is thought to have been first created in the Middle East during the Bronze Age. In the Middle Ages, the production of glass spread from the Middle East to Europe, with Italy and Eastern Europe being the centre of this new industry. | |
| Gems | Occurs in: | Dark Age Europe's Germanic tribes, illiterate and violent as they may have been, were also keen craftsmen. Rich ornaments dug up from graves throughout France, Britain and Spain attest to the genius of the cultures whose leaders were interred therein. Gems were not just used for adornment - the emphasis on painting and art in the Renaissance meant that there was strong demand for paints. While some pigments were produced from organic sources, others were produced by crushing semiprecious stones to powder, such as lapis, turquoise and haematite. | |
| Fish | Occurs in: | In the Middle Ages, the seas, lakes and rivers were teeming with fish, and medieval people took advantage of this fact with professional fishing fleets and fish traps. Cod and herring were frequently caught in the North Sea — by the Early Modern Era fishing was such a lucrative busienss that it led Charles V to comment that "The Dutch fish more gold and silver from the sea, then other nations dig from the ground." | |
| Falcons | Occurs in: | It is generally accepted that the origins of falconry began in China and Mongolia and then came to Europe later on. The art of falconry was taken very seriously as birds of prey were one of the most sophisticated and highly sought after means of hunting for food — one Holy Roman Emperor even composed a book on falconry for use by posterity. | |
| Dyes | Occurs in: | In Europe the art of dyeing rose to new heights with the direct impact of trade instigated by the Crusades and furthered by the growing cultural awareness of the Renaissance period. The most prized dyes were brazilwood, lac and indigo, which were found only in Asia, although traditional dyes like those from iodine-rich shellfish and woad continued to be used. | |
| Diamonds | Occurs in: | One of the hardest and most enduring substances known to man, diamonds are also prized for their beauty. Until the European "ages of discovery", the source of diamonds however was limited to India — the Qohinoor or "Mountain of Light", now part of the British Crown Jewels, is a testament to a time when India was the sole supplier of all the world's diamonds. | |
| Relics | Occurs in: | Relics served as a link to a holy personage or to divinity itself in mediaeval communities, and the prestige of a temple or church was boosted if it had a verifiable relic. Not all people were avid about them: although they kept the personal effects of the Prophet and his associates, the majority of Muslims did not venerate them, and Confucians in China found the practice of venerating dismembered parts of human bodies such as teeth repugnant. | |
| Silver | Occurs in: | While Greeks and Muslims were known for striking gold coins (such as bezants and dinars) silver, alongside copper, iron and salt, formed the principal mineral wealth of Europe, and for a higher-level currency, silver was sufficient in quantity and quality, extracted from mines in eastern Europe or from Sardinia, whose ore fed the purse of the Pisan republic. Silver also has anti-bacterial properties and was also sought by apothecaries as well — tradition in Korea holds that the best chopsticks are made of pure silver. | |
| Salt | Occurs in: | Equally as vital as gold was salt, which is fundamental to the functioning of the human body as well as for the task of preserving meat and vegetables. Although seawater could be made to evaporate to produce salt crystals, rock salt was also mined in Africa, Poland and India. | |
| Sugar | Occurs in: | Sugar — today the bane of dieters and diabetics alike — was once a luxury which could only be imported from India. Extensive trade links with India soon allowed the Muslim Abbasids to experiment with sugarcane and by the onset of the Middle Ages proper, sugarcane was being cultivated in the wettest parts of the Islamic realm, with Baghdad and Cairo being the centres of the sugar industry. The Cornaro clan, the Venetian rulers of Cyprus, grew wealthy from selling sugar to Christian Europe. | |
| Cotton | Occurs in: | Originally cultivated in Persia and India, cotton eventually spread east and west through contact with Islam. While not having the same prestigious status as silk, cotton had a probably greater social and historical significance: it was more readily available, and it was easier to wash than wool and silken textiles, and could also be used to form quilted armour which was useful against projectiles such as arrows and darts in combination with other forms of armour. | |
| Copra | Occurs in: | Coconuts, a common sight throughout India and Southeast Asia, are known for their usefulness and ubiquitousness. Coir or coconut fibre rope was praised by Ibn Battuta who claimed that it was flexible yet enduring. The fruit of coconuts is also edible, and the nut therein can be turned into copra, which can then be processed for oil. Palm wine or toddy, an alcoholic drink, is created by fermenting coconut milk. | |
| Copper | Occurs in: | Although the onset of the Iron Age almost two millenia ago effectively reduced the importance of copper, the mining of copper still continued to take place, with the mountains of Germany and Eastern Europe being its main source. Copper was of great interest to mediaeval alchemists for use in preparing prescriptions — as well as for the first modern artillery pieces, which were made of bronze, an alloy of tin, lead and copper. | |
| Coffee | Occurs in: | By the Middle Ages the Arabs had learnt to roast and grind the berries of a plant growing in Africa before boiling them to create a bitter but invigorating drink which they called qahwa. By the 18th century, qahwa — now coffee — had reached Europe where it subsequently became a luxury for the nobility and well-to-do. | |
| Coal | Occurs in: | Coal had a limited use in medieval times, but was the fuel of choice only for blacksmiths. Coal fumes made it less desirable than wood, especially as coal burns poorly. But if wood was short, or coal was cheap, then coal might be used, even if it was used reluctantly. | |
| Citrus | Occurs in: | Citrus fruits can be traced back to Asia, where they were first cultivated. Oranges and lemons first made their appearance in Mediaeval Europe, following the arrival of Islam which discovered that it was expedient to grow citrus trees in the Mediterranean. Much later, Europeans discovered that citrus could prevent scurvy, and so fleets who could afford it issued citrus to their sailors. For this reason, the British — a major maritime power — were sometimes called "Limeys". | |
| Cereals | Occurs in: | As in all pre-indutrial epochs of human history, the cultivation and harvesting of cereal crops remained the most important task in the Middle Ages. Barley, oat, rye and wheat were the staples of Europe. Other crops such as rice were introduced from Asia through contact with Muslims — in fact, the Spanish word for "rice" is more or less the same as in Arabic:arroz. | |
| Cattle | Occurs in: | In agrarian mediaeval Europe, the raising of livestock proved to be a crucial activity. Cattle was by all means the preferred choice: aside from providing leather and meat, bulls could be used as beasts of burden, and cows would provide milk which was then used to produce butter and cheese. The Moors who arrived in Spain also made their living from herding cattle, and some of their Christian descendents moved to America, where they plied their ancestral knowledge and traditions which contributed to the creation of the archetypical cowboy. | |
| Brimstone | Occurs in: | Brimstone (or in old English, "burning stone") was known in ancient times, mentioned for its uses in ancient India, ancient Greece, China and Egypt. It was used as a fumigant, and was also used to prepare medicinal mixtures such as balms and antiparasitics. Brimstone became far more valuable with the introduction of firearms, as it was used to increase the potency of gunpowder. | |
| Bison | Occurs in: | European bison were formerly native to almost all but the loftiest heights of Europe. Hunting limited its scope to forests by the Middle Ages, and by the onset of the 20th century there were all but around a hundred individual animals left. Fortunately however contemporary conservation efforts have prevented outright extinction, although it is still considered as a threatened species. | |
| Beaver Pelts | Occurs in: | Beavers were not just hunted for fur but for their castoreum, an oil secreted from glands in their groins, which was then thought to have medicinal qualities. Widespread hunting however decimated the indigenous beaver population, and it is only thanks to vigorous conservation efforts that beavers have begun to return back to Europe's ecosystems. | |
| Bananas | Occurs in: | Generally believed to have been first domesticated by the Malays or Papuans, bananas were widespread throughout southern China, India, Southeast Asia and Africa, where they are believed to have obtained their name. The Arabs further transmitted them to their lands where they became a popular treat alongside dates during Ramadhan. | |
| Amber | Occurs in: | Amber is fossilized tree resin, usually of a yellow, orange or brown color and of a transparent, cloudy or solid appearance and has been used as jewellery and fragrance alike: if heated under the right conditions, amber becomes a sticky fluid again and produces a light 'pinewood scent'. In Ancient Greece, medical purposes of Amber were discovered and used through the Middle Ages. | |
Ad blocker interference detected!
Wikia is a free-to-use site that makes money from advertising. We have a modified experience for viewers using ad blockers

Wikia is not accessible if you've made further modifications. Remove the custom ad blocker rule(s) and the page will load as expected.